The first movie directed by Hayao Miyazaki returns to the big screen once more! The second theatrical film in the Lupin III series, The Castle of Cagliostro (1979) is loved to the point that it boasted a high view rate even during its 15th TV broadcast last year, which is why TMS Entertainment decided to revive it in a MX4D® version using the latest technology. The reborn movie graces the screens of Toho Cinemas and other MX4D® screens Japan-wide from Jan. 20 for a limited time.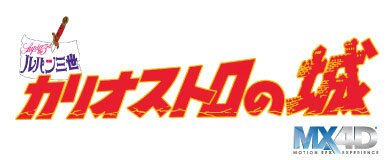 ■ Special Price & Special Effects
MX4D® is known for its realistic feeling facilitated through the use of seat movements, vibration, wind, stroboscopes, and other tricks. To the company's knowledge, The Castle of Cagliostro is the first MX4D® adaptation of the classic in Japan. Although the usual ticket price for MX4D® movies is ¥3,000, tickets for the MX4D® version of The Castle of Cagliostro are available for ¥2,200, welcoming viewers experiencing MX4D® for the first time. The first 1,700 to arrive in each theater will also be presented with a special postcard commemorating the movie.
Taking the digital remastered version released in theaters in 2014 as its base, stains were removed from the film using the latest technology and careful manual work, and the movie was equipped with 5.1 channel sound after filtering the noises out. In addition, this new version also has special MX4D® features by Sony Business Solutions and Dynamo Amusement including seat poppers (tossing) and water blasts.
■ A Lupin III Experience like Never Before
TMS Entertainment, who has been producing the Lupin III series since 1971, has risen to many challenges over the years, such as creating a show with realistic elements and attention to detail (as seen in the hand guns and vehicles) or making the first stereo adaptation of a complete anime series, and creating the MX4D® version of The Castle of Cagliostro, a beloved masterpiece broadcast many times on TV, for fans to enjoy and experience to the fullest is another addition to that list.
Originally, creating MX4D® programs required a visit to the U.S., but now it's possible to do it in Japan after Sony Business Solutions, a distributor of MX4D® programs in Japan, acquired a production license. Creating the program itself is Dynamo Amusement, which has used all of their 20-year experience and know-how accumulated while creating MX4D® content for amusement parks and theme parks for this movie.
The MX4D® version has been in preparation for roughly a year in tandem with the new TV series project in 2015, commemorating the 50th anniversary of the original manga with a full-body experience anyone can enjoy. Reliving the action scenes that have influenced many creators in the film industry by feeling as if you are right in the middle will make even those who have seen The Castle of Cagliostro many times over find something new to love about it.
MX4D® The Castle of Cagliostro Official Site