The Transformation Brooch used by Usagi in Sailor Moon is appearing in Bandai's cosmetics brand Miracle Romance as the Miracle Romance Make-Up Flat-Style Eyeshadow (¥4,212; tax included, shipping and handling separate)! Pre-orders opened on on Premium Bandai on Jan. 20 at 1:00 pm.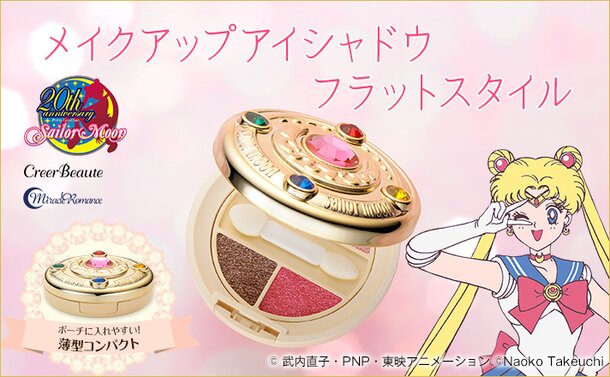 ■ About the Eyeshadow
The eyeshadow is based on the Transformation Brooch Sailor Moon uses to transform in the anime Sailor Moon. With its sparkling gold color, the compact has a high class feel to it, and it's nicely sized with a diameter of 7 centimeters and thickness of 2.5 centimeters, making it small, low profile, and great for keeping in a pouch on the go. Its design captures all of the main details with a crescent moon on the upper lid and stones based on the five main Pretty Guardians (Sailor Moon, Sailor Mercury, Sailor Mars, Sailor Jupiter, and Sailor Venus).
There are four eyeshadow colors carefully chosen in combinations that are great for both everyday use and special occasions. The red pearl color can even be used as blush, giving this single compact a wide variety of uses.
The eyeshadows use synthetic mica, allowing it to cover dullness caused by sweat or sebum while adding beautiful color. The powder was made using a wet manufacturing process, so it's possible to mix it with semi-solid oils, and it will stay firmly on your skin. Fruit extract, apricot seed extract, peach leaf extract, and okra extract were also used as moisturizing ingredients.
The Miracle Romance Make-Up Flat-Style Eyeshadow is both cute and thoughtfully developed, and in the name of the moon, it'll let you perform your very own powerful "Make Up!" transformation!
■ Product Details
・Name: Miracle Romance Make-Up Flat-Style Eyeshadow
・Price: ¥4,212 (tax included, shipping and handling separate)
・Target Age: 15 and older
・Set Contents: Eyeshadow (4 colors), applicator, loose powder tray
・Dimensions (approx.): 70 x 25 mm
・Materials:
 - Container: ABS, AS, PMMA
 - Mirror: Glass
 - Applicator: AS, PUR
 - Box: Paper
 - Loose Powder Tray: PET
・Manufacturing Countries:
 - Container/Loose Powder Tray/Applicator: China
 - Eyeshadow: Japan
・Available Through: Premium Bandai, Otona Joshi Biyori shops, and more
・Pre-Order Period: Jan. 20 (Fri.) at 1:00 pm while supplies last
・Estimated Release: March 2017
©Naoko Takeuchi, PNP, Toei Animation
©Naoko Takeuchi