If you just can't get enough of cute and beautiful Japanese jewellery, you might have heard of a company called K. Uno. With 35 stores across Japan, K. Uno creates custom-made items, and its U-Treasure brand offers a variety of adorable character jewellery and accessories! Thanks to incredible technological skills and design ability developed through years of creating custom-made products, U-Treasure is home to a dazzling array of items.
To celebrate the popular Sanrio character My Melody's birthday on Jan. 18, two limited edition watches are joining the U-Treasure collection! There are only 50 of each of these brand new designs available, and each watch comes with a serial number. These captivatingly cute watches are available for purchase from Feb. 1.
Click here to take a look at the U-Treasure My Melody jewellery collection!
Seriously Special My Melody Watches with Unique and Adorable Designs
U-Treasure has been designing, creating, and selling items starring Sanrio characters like Hello Kitty, Little Twin Stars, and My Melody since October 2014. By September 2015, the brand had produced jewellery and accessories featuring 22 different characters! Up until now, U-Treasure has created over 30 My Melody designs.
The latest addition to U-Treasure's My Melody collection, these wristwatches are perfect for both men and women. Their simple design makes them a great accessory for any outfit, enhancing the style of whatever you're wearing. The serial number of each watch is engraved on the back of its case, making these eye-catching watches feel very special indeed.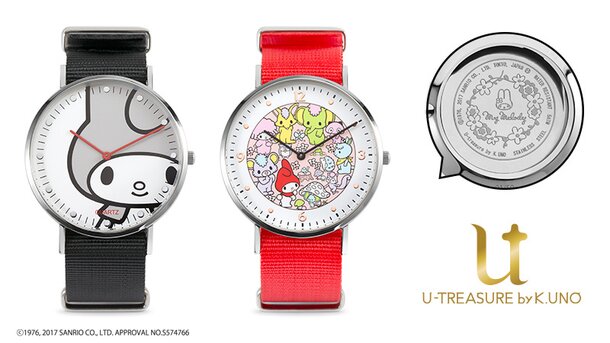 Price: ¥21,600 each (plus tax)
Designs:
・Black
・Red
Size: 40 mm | 1.6"
Case Thickness: 6.5 mm | 0.3"
Movement: Swiss quartz movement
Strap Material: Fabric (nylon)
Waterproof: 5 ATM (enhanced waterproofing suitable for everyday use)
Country of Manufacture: Japan
Available at:
・U-Treasure Online Shop
・K. Uno Okinawa Ashibina
©1976, 2017 Sanrio Co., Ltd. Approval No. S574766