Bourbon Corporation has joined forces with One Piece to create three delicious treats! This collection of One Piece-inspired snacks stars chocolate chip cookies, popcorn, and pretzels, and it's set to hit the shops on Tuesday, Jan. 24, 2017.
This tasty collaboration with Toei Animation comes after the release of the One Piece Film: Gold movie in summer 2016 and the DVD in December.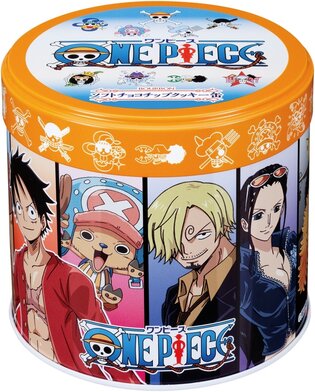 ◆ One Piece Soft Chocolate Chip Cookie Tin
These soft chocolate chip cookies have a deliciously rich butter flavour, and the outside is crisp while the inside is fabulously moist. Each cookie is individually wrapped, and the packaging also features a One Piece design, making them perfect for sharing among family, friends, or coworkers. The exclusive cookie tin is decorated with a design starring the Straw Hat Pirates, so even once all the yummy cookies have been munched you can enjoy using it to store things.
Contents: 12 cookies
Nationwide Release Date: Tuesday, Jan. 24, 2017
Recommended Retail Price: ¥600 (plus tax)
◆ One Piece Caramel Popcorn
This caramel popcorn comes in a cup with a One Piece design starring Luffy and Chopper. The caramel is cooked in small batches to make it extra delicious, and each piece of popcorn is thoroughly coated, ensuring that this caramel popcorn is on a whole other level to the average caramel popcorn.
Contents: 38 g
Recommended Retail Price: ¥150 (plus tax)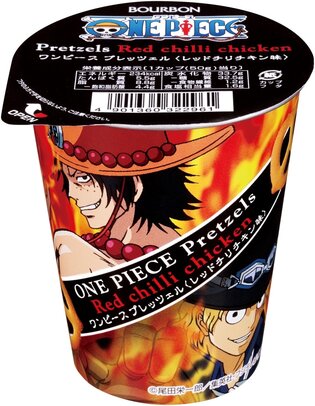 ◆ One Piece Red Chili Chicken Flavour Pretzels
These crunchy pretzels come in a cup with a design featuring Ace and Sabo. With their hint of spiciness, these chicken flavour pretzels conjure up the Mera Mera no Mi abilities of these fiery pirates.
Contents: 50 g
Recommended Retail Price: ¥150 (plus tax)