Ardalan is a fervent staple of the Dirtybird crew, able to charm both his peers and his audiences with his bouncing productions and exceptional selections from dancefloor to dancefloor.

He's been a favorite over the years since first joining the Claude VonStroke-led gang at their first BBQ session in 2007. After serving up an impressive catalog of originals, remixes and collaborative efforts with the likes of Just Martin and Walker & Royce, Ardalan is gearing up to release his debut album, 'Mr. Good'. The 11 track album is set to land on November 1 via Dirtybird.
"'Mr. Good' is a story about self-acceptance," says Ardalan about his LP. "In some cases, we strive to be the perfect person. Yet, we never learn to be ourselves. We and society are forced to wear a mask to hide our true traits and flaws, which are the very reasons that push us to be a better person in this world."
The first preview of 'Mr. Good' arrives with the single, 'I Can't Wait', which features his girlfriend on vocal duties. Inspired by their very real life experience, the haunting chorus of 'I Can't Wait' was her response to Ardalan's long hours spent in the studio.
Listen to the single below and purchase it here.
Ahead of his album release and performance at this year's edition of the West Coast's zaniest music festival, Dirtybird Campout, Ardalan has put together a list of 14 tracks that have paved the way for his heartwarming and distinct musical career. From tracks that invoke memories of his childhood to the life changing dancefloor bangers that helped him define his sound, Ardalan winds back the clock for a sonic nostalgia trip that give us some fun insight into the roots of his taste and its evolution.
The West Coast edition of Dirtybird Campout 2019 is scheduled for October 4 - 6 this year at the Modesto Reservoir Campgrounds and will feature all the Dirtybird favorites and a whole host of eclectic artists such as Ovum boss Josh Wink, Cut Chemist, Wajatta, Robag Wruhme, Lubelski, Ukrainian techno queen Nastia, Mija, The Librarian, Sherelle, DāM-FunK and more.
Check out the full line-up and purchase tickets to Dirtybird Campout West here.
Dive into 14 of the tracks that have helped Ardalan define his musical direction below.
Age Ye Rooz 'Faramarz Aslani'
"'Faramarz Aslani' by Age Ye Rooz is one of the most popular Persian songs to date. What Bob Dylan's ballads are to America, 'Faramarz Aslani' is to Iran. I vividly recall everyone playing the beautiful lyrics. I feel like it was one of the first songs I heard as a kid - on an acoustic guitar while sitting around a bonfire along the Caspian Sea."
2Pac 'Can't C Me'
"This is the first rap song I ever heard and it continues to stir a sense of nostalgia in me when I hear it today. It reminds me of when I lived in Tehran back in the early '90s, when Western music was very limited in Iran. We would recycle tapes and make mixtapes with random, different songs. This is what really exposed me to a wide range of music as a kid, from Jazz to Italo disco to even Gangsta Rap. I remember my cousin made a mixtape for my brother when he was 10, which only had Daft Punk's 'Around The World' and 2pac's 'Can't C Me' on it and we would constantly play it in the car with our parents."
Daft Punk 'Around The World'
"I think I was around six-years-old when I heard my first house record, which was none other than Daft Punk's 'Around The World.' That first loop that kicks in before the verse would be stuck in my head for hours from listening to it so many times. To this day I still think it is one of the funkiest classic records ever."
White Town 'Your Woman'
"White Town's 'Your Woman' was constantly on the radio in 1997. I had just moved back to the USA and was living in Menlo Park. If there was one song that would transcend me into a '90s nostalgia, this would be it."
"Here I am at my first ever Dirtybird BBQ in Golden Gate Park, San Francisco in 2007. Also, my hair looks like a helmet."
Portishead 'Undenied'
"Portishead is one of the first bands I ever heard of when getting into music. My brother would blare the whole 'Dummy' record in his bedroom, while I was playing Metal Gear Solid 2 in mine. While it's hard to choose a favorite Portishead song, 'Undenied' earns the honorable mention here."
Polygon Window 'Portreath Harbour'
"Before I ever got into house and techno, I went down the rabbit hole with the Aphex Twin catalogue. I really got into Richard D James's Polygon Window alias. I listened to 'Portreath Harbour' when I was 15 and it opened a new world of sounds for me. The track gives me goosebumps because it's so pretty and eerie at the same time. Love that balance."
Boards of Canada 'Iced Cooly'
Boards of Canada's 'Iced Cooly' is another important example that really paved the way for me into electronic music. I love the fact that every time I hear it, I envision myself holding a giant helium balloon and just floating into space. Boards of Canada's music is truly visual and I used to just listen to their music and daydream all day.
Mary Jane Girls 'All Night Long'
"I first heard this classic on the radio station in GTA: Vice City. I played a lot of video games growing up and I have to say that some of my early musical influences came from video game soundtracks. This was one of the first songs that got me into 80s funk and lead me to make the bootleg version of Mary Jane Girls 'All Night Long'!
SebastiAn 'Ross Ross Ross'
"The year 2007 brought me many musical loves, ranging from the Ed Banger goodies in France to all the funky techno and minimal that was also getting super popular at the time. 'Ross Ross Ross' reminds me of that early 'wah-wah discoteque' music from the '70s, like the Persian dance floor hit 'Talagh' by Googoosh."
Petter 'Some Polyphony'
"This is one of my favorite tracks of all time. First heard it when I moved back to the USA in 2006. At this point I was in love with all the minimal stuff that was getting momentum at the time, but 'Some Polyphony' really spoke to me emotionally with that breakdown progression, slowing opening up before the drop and going crazy with that second oscillator in the chords which were slightly tuned higher. It sounds like the song is crying and screaming. Genius."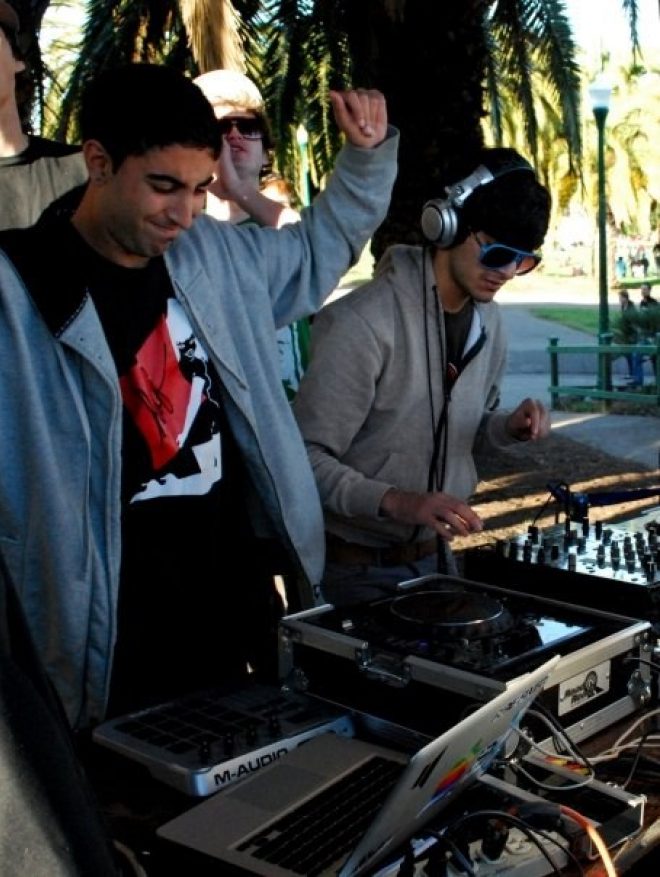 "Me playing my first ever DJ gig with Sepehr (aka Ardpehr) at a crazy renegade in Delores Park circa 2009."
Justin Martin 'Ghetto Train'
"Justin Martin's 'Ghetto Train' was one of the first tracks I heard from Justin and it opened the doors to Dirtybird. I remember listening to it for the first time on my way to my first ever Dirtybird BBQ and I was blown away with the sampling. With the train on the tracks and the airplane flying in and out. Ghetto Train is another example of visual imagery within the audio experience. Banger."
Claude VonStroke 'Deep Throat'
"This was the first Dirtybird song I ever heard. My buddy sent me a YouTube video on MySpace and i thought it was a funny video he sent me, not knowing it was the deep throat music video! After hearing 'Deep Throat' I researched more about Dirtybird and found out they are from San Francisco, that's when i decide to drive up to my first DB GG BBQ party in 2007."
Ricardo Villolobos 'Mecker'
"This is another important classic for me. I would play Villalobos' fabric 36 on my Sony Eriksson Walkman during recess in eleventh grade and just jam down the hall to 'Mecker.' I'd play it for my friend Sepehr (who also produces and now does live acid / techno sets) during lunch break and we would go crazy!"
​Minilogue 'Ghost'
Load the next article